GVF 4000 Rough Terrain Forklift
This forklift is a compact, fast machine designed for working in narrow rows and tight spaces. It's rugged and operates smoothly. It's small - yet it has all of the features, power and speed of the larger GVF lifts.
GVF 4000 has a compact design with serviceability still in mind. The hood flips up 90° and the side panels remove to allow access to everything on the engine. Easily access the transmission and hydraulic components just by simply removing covers.
Now only 65" wide!
Improved turning radius,15°

tighter than our previous model.
​Kohler, Tier IV, Turbo Diesel Engine
4 wheel drive
See through mast
42" carriage with 6 rollers
8" side shift in carriage
Independent power assisted braking which allows operator to use the brakes for turning and decreases pedal effort required for braking which results in better performance and less operator fatigue.
4 flood lights - 2 front, 2 rear
LED direction indicator lights
LED warning flasher lights
Backup alarm
Horn
SMV emblem
Tilt and telescoping steering column
Suspension seat
Engine pre cleaner
Grid heater for cold start
Down exhaust
Rear view mirror
4 section hydraulic valve
Painted with high quality urethane paint
Options:

Warning beacon
Bin clamp
Bin dumper
Rear fender
Transmission brake
Load backrest
Soft Ride kit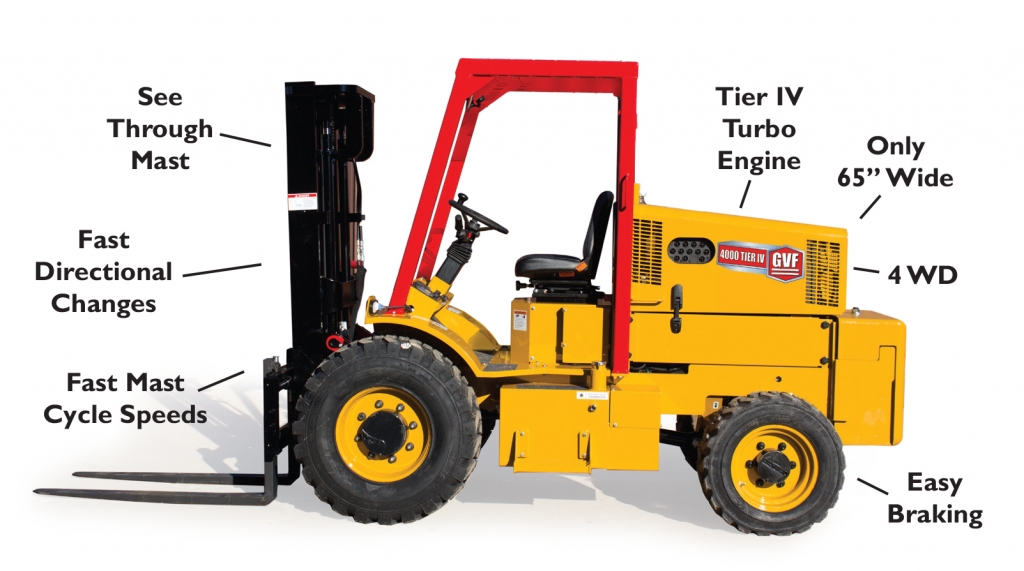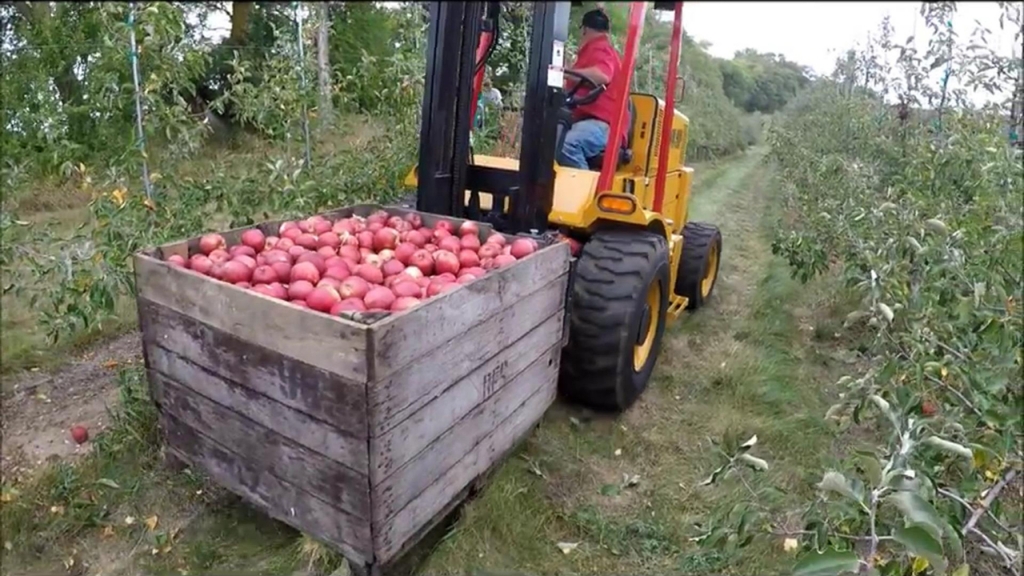 Download a Brochure
GVF Rough Terrain Forklift Comparison

GVF
4000

GVF
5000

GVF
6000

GVF
8000

Overall
Weight

9,100
lbs.

12,000 lbs.

13,000 lbs.

16,190 lbs.

Lift Capacity at 24" load center

4,000
lbs.

5,000 lbs.

6,000 lbs.

8,000 lbs.

Standard Lift Height

10'

12'

12'

12'

Overall Length

128"

139.5"

139.5"

158"

Overall Width

65"

80"

80"

87"