Rough Terrain Forklifts
Fast, powerful machines that operate smoothly. Available in four different models. These lifts get the job done quickly and comfortably.
GVF rough terrain fork lifts are rugged and dependable and offer unmatched versatility. Suit any rough terrain material handling needs with these fast moving and powerful lifts. GVF offers 4 different models of Rough Terrain Forklifts including the GVF 4000, tier four, compact lift designed to navigate narrow rows and tight spaces. It's small - yet it has all of the features, power and speed of the larger GVF rough terrain forklifts like:
Fast mast cycle speeds!

Exceptional turning radius!

Extremely good visibility!

Fast directional changes!
Standard Features Include:
GVF 5000, 6000 & 8000 available in 2WD or 4WD.
GVF 4000, 4WD - Compact design to navigate narrow rows and tight spaces.
Tier III Turbo JCB engine
See through mast
48" carriage with 6 rollers
8" side shift in carriage
4 Flood lights - 2 front, 2 rear
LED direction indicator lights
LED warning flasher lights
Backup alarm
Horn
SMV emblem
Tilt and telescoping steering column
Suspension seat
Engine pre cleaner
Down or vertical exhaust
Rear view mirror
4 section hydraulic valve
150 cu. in. tool box
Painted with high quality urethane paint
Options:

2 or 4 wheel drive
Grid heater for cold start
Warning beacon
Bin clamp
Bin dumper
Rear fender
Front fender extensions
Transmission brake
Load backrest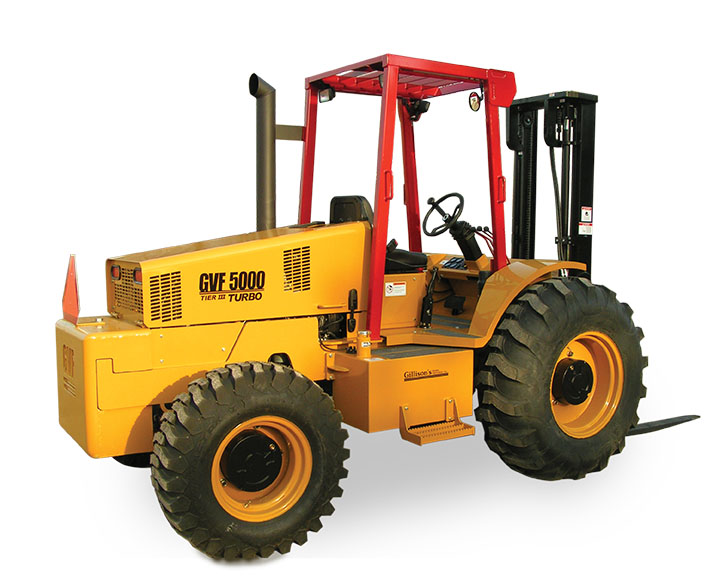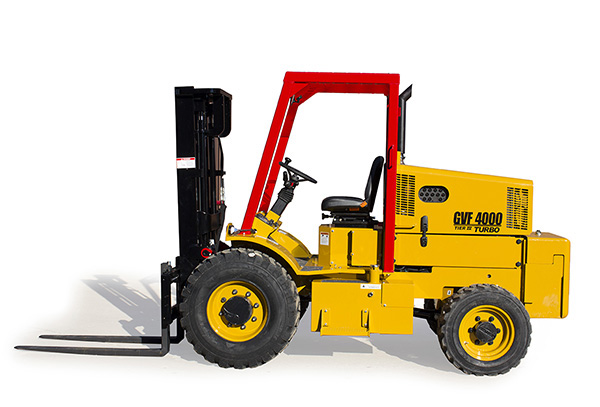 Download a Brochure
GVF Rough Terrain Forklift Comparison

GVF
4000

GVF
5000

GVF
6000

GVF
8000

Overall
Weight

9,100
lbs.

12,000 lbs.

13,000 lbs.

16,190 lbs.

Lift Capacity at 24" load center

4,000
lbs.

5,000 lbs.

6,000 lbs.

8,000 lbs.

Standard Lift Height

10'

12'

12'

12'

Overall Length

124"

139.5"

139.5"

158"

Overall Width

60"

80"

80"

87"